Born more than twenty-five years ago, during another surge of hardcore misogyny, and anti-gay, white Nationalist hate...

the Lesbian Avengers kicked off with a daring action supporting a multicultural curriculum, and encouraging elementary school children to "Ask about Lesbian Lives."
This simple, but taboo-busting gesture launched an extraordinary movement that spoke to lesbians everywhere. Their most visible legacy is the Dyke March, still organized in cities across the globe.
Our goal, as a project documenting the Avengers, is to celebrate Avenger accomplishments, and to encourage new activists to go forth and wreak havoc for the sake of dyke lives.
Keep in touch via FB, twitter. Support is always welcome!
Even better than a tee shirt?
Inspire yourself with a Lesbian Avenger Handbook!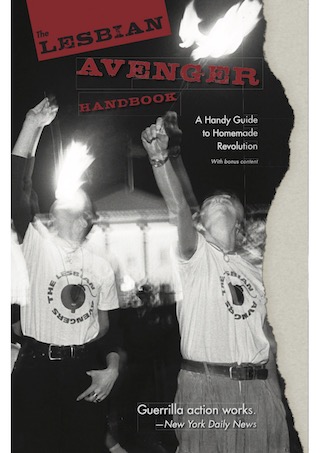 Now available! The Lesbian Avengers 25 Mobile Exhibit 1.0.
We did it, and we'll do it again